air intakes & filters

The right fit and finish are important to you, so you need a source with a large selection. Whether you own an Audi, BMW, Mercedes, Mini, Porsche or Volkswagen, Fine Tuning has a large selection of performance air filters and intake kits to suit your individual style.
cold air intakes

aftermarket cold air intake systems are marketed with claims of increased engine efficiency and performance.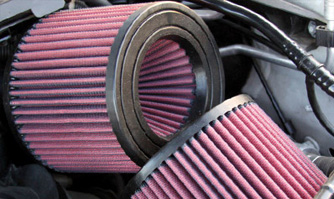 The Difference with cold air
k&n air intakes

We feel a high quality performance intake system is one of the best dollars to horsepower investments you can make and once again K&N is the clearly defined leader.  We built our first kit in 1992 and haven't looked back since.  We currently manufacture over 500 different part numbers and our team of engineers is designing, building and testing new systems constantly.

custom racing filters
Fuel Economy

Fuel economy testing and mileage claims are a tricky business. Just ask the EPA, whose website states, "EPA's fuel economy estimates are designed to allow consumers to comparison shop.  Your fuel economy will almost certainly vary from EPA's fuel economy rating.  This is based on a number of factors, such as weather, road conditions, your driving and maintenance habits, and your use of air conditioning.